Looking to buy Synergy Spanish by Marcus Santamaria? Read our unbiased review to find out if this spanish learning program is a scam or not?
Developed and authored by Marcus Santamaria, Synergy Spanish is basically a fast track course and a step by step action guide program based on patterns that can be used to teach beginners some entry level Spanish language or simply a little more that will give them that foundation to build further on their Spanish or just to create basic everyday statements or questions.
With just 138 words as the first building blocks to help you start learning Spanish, this program is an easy and a well structured system or program designed for individuals or people who are willing or eager to learn the basic or simple conversational Spanish , rather than to learn the entire language, proper verbs, and conjunctions.
The Synergy Spanish program is therefore a completely unique approach to teach the Spanish language, as it is designed mainly for those who want to cram, probably because of a vacation.
What are included in this program and how does it work?
This system is known to be quite a unique and an interesting course or concept, that employs a strategy known as the "80/20" rule or simply the Pareto principle.
A rule that states that in every field of human endeavor 20 percent of your effort brings about 80 percent of the result. With this course students employs some 68 structured audio lessons with the aid of a guide book.
Here each lesson goes for about 10 to 15 minutes long, where by students learn about 138 brick and mortar synergy words and verbs that can be used to construct almost 88,000 Spanish sentences and phrases.
A memory technique is employed through the assistance of audio and work books all which can be either be found online or simply downloaded and read physically.
Their is the audio upgrade that will help you in the pronunciation and in auditory memory while the written Ebook lessons will help to solidify the audio lessons.
The mnemonic tricks will instead help you to memorize many of the phrases within a very short time.
That said, you can then readily access the synergy members site, where you can always access and download the audio lessons and a step by step action guide.
Where by you can then later on play the audio files on your computer or any of your player devices. However, being that there is a number of Spanish Dialect, the author of this program appears to have focused mainly on the Mexican Spanish.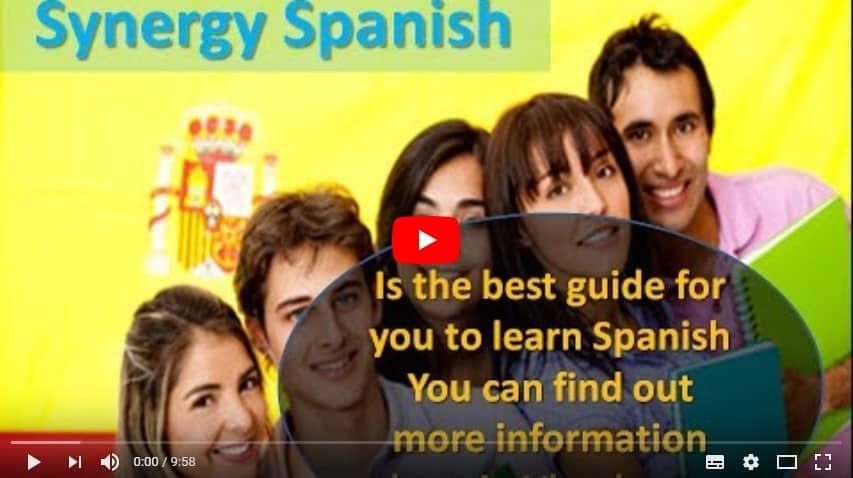 Apparently with this program, there are no member forums, no interactive modules nor are there free demonstrations as it focuses on an approach that will allow you to pick the Spanish in a very short time.
So who is the Ideal candidate for Synergy Spanish?
Interestingly, this program eliminates so much of the tedious grammar, unnecessary fillers and fluff and is therefore convenient for people who are not willing to go through the treacherous grammar exercises but rather to quickly learn the basic Spanish.
Therefore, this course is mainly for the beginners with no prior knowledge of the Spanish language. It is of course a system that teaches survival Spanish which will let you maneuver around in any of the Spanish speaking countries in case you are there for a short while or simply when on a business trip.
The focus of this program is to help put short phrases together to form just but the basic questions such as to ask for a direction, ask for prices, greetings and so forth.
Moreover, this program is developed with speed in mind to ensure that the newbie who is interested in learning this language as fast as possible uses it.
The advantages or the pros of the synergy spanish;
It offers a very convenient and an easy way for beginners to learn the Spanish language.
It provides a very fast track way to help you learn and discover how one can combine Spanish words to create full sentences and to speak survival Spanish freely within a span of about 5 to 7 days.
The synergy Spanish program is said to be relatively cheap as compared to other exhaustive Spanish language learning programs that may cost a little bit more as compared to this program that barely cost $67. Plus, if you are interested then on purchase you will be presented with this program right at your door step.
This program mainly focuses on what is the most important in Spanish and leaves out irrelevant materials.
This program offers online support and coaching either via the email. This therefore allows for an easy way to interact with the author and to get more details.
It saves one from a boring and treacherous journey of learning so much words and phrases to reading a lot of books that you might not be very useful in the long run or apply anyway.
This program also promises at least 60 days money back guarantee, hence an assurance that you can never go wrong with this software product
This program offers a free test drive and free trial that includes the first four chapters of the course
So does the Synergy Spanish work?
Well, this product has since proven to be very effective contrary to the fact that it might be a scam and is ideal for those who need to learn the basics of the Spanish language.
Moreover its teaching method is well structured in a step by step procedure, that each lesson build on the subsequent lesson together with a guide book to help simplify the learning of Spanish.
Plus, the program assures the buyer of a 60 day money back guarantee if their program or course do not provide a real and practical results, an assurance that it indeed works.
Recommendations:
It is therefore recommended that if you are either interested in learning a bit of Spanish or perhaps you are about to travel or visit any Spanish speaking country or you work alongside Spanish speaking natives and you are not ready to spend hours on end learning Spanish.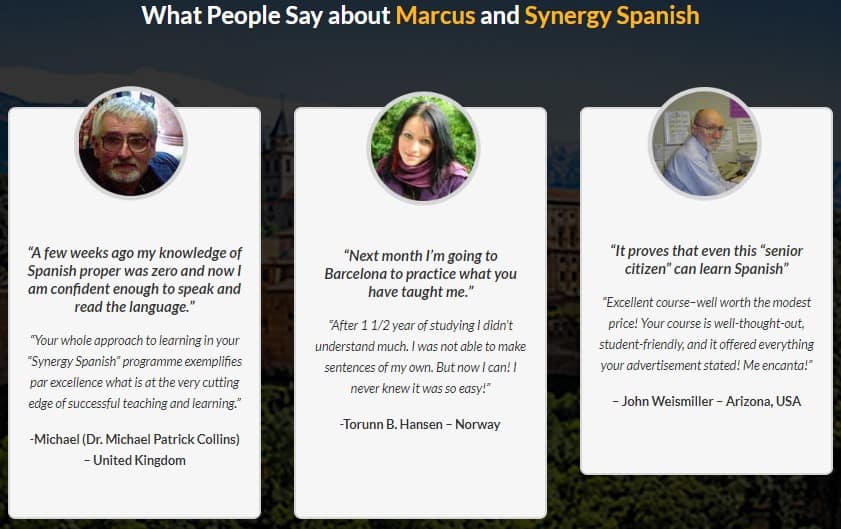 Then to effectively and quickly learn Spanish in order to effectively communicate with your counter parts, then synergy Spanish is therefore the most convenient way to grasp your knowledge in Spanish and interact with efficiently and where appropriate.